JCI's Mission
"Next generation mobile phones are no longer just phones. They are a tool that will change the way we live indefinitely."
The very words of Frank Seiji Sanda who founded JCI in May 1995 with the clear foresight of the potential mobile communications had in taking the Internet to the next level.
Japan, at the time, was on 2G - a mobile phone generation in which Europe had taken the lead - but on its way to 3G (IMT-2000) in which, this time, it was expected to take on the role as global leader.
IMT-2000 mobile services enable fiber-optic-like broadband data speeds while also making it possible to use the same terminal anywhere in the world. Unlike traditional telephone services (circuit switched) where the object is confined to allowing voice exchanges between two persons, 3G is a platform that makes possible the transfer of broadband data among multiple parties on a global scale. An environment in which everybody has a personal device that can connect to the Internet anywhere in the world should unleash a vast range of new business opportunities in industries such as intelligent home electronics, financial services, advertisement, online games, broadcast and ecommerce.
The traditional mobile phone intended simply just for voice delivery is becoming a commodity and, today, face the need to reinvent itself into a tool to deliver truly value-added services. In order for this to happen, there needs to be a level playing field in which service companies can enter the mobile market and compete with one another to create various new business models. To JCI, this calls for the creation of a industry structure that separates network and service, as opposed to the current status-quo in which the network provider also is the entity that dictates service. This brings about a service-based meritocracy where a company with the best value proposition can get ahead and best fulfill customer needs.
JCI believes that its mission is to not only play a part in making the aforementioned possible, but become a role model in introducing such revolutionary business solutions in the future mobile market place.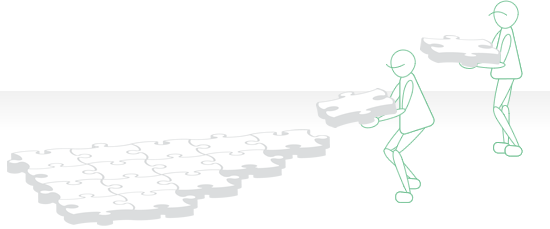 Our Milestone
Why are there only a limited choice of expensive rate plans when clearly the frequency and appetite for mobile data differ from individual to individual?
Why does one have to select a telecom carrier before choosing which mobile terminal to use?
Why does one have to sacrifice its email address and mobile applications when choosing a mobile terminal provided by another carrier?
These are issues resulting from carriers also controlling the service.
For the longest time, Japan's mobile industry has been vertically integrated, in which the network operator controlled the service and the choice of handsets. Though this structure has its merit during the early stages of the industry, in a later phase when the market matures brings about side effects such as limiting competition which runs counter to the interest of the general consumer. Sure enough, the fact that telecom carriers who were issued spectrum each got to monopolize all elements of the industry, i.e., the network, handset, content and consumer outlet, resulted in stagnating competition thus leading to identical tariffs, carrier-brand feature phones and closed-platform contents.
The undesirable situation explained above is the foundation of the injustice in which 90% of mobile subscribers who typically don't use data that often are having to support the 10% heavy users at the top. In addition, the domestic handset manufacturers fallen slave to a carrier-driven product development cycle have lost their presence in the global market place.
Spectrum, which by its very nature is limited in supply, must be utilized as efficiently as possible. This is particularly true for Japan, which happens to be the only first world country that does not auction spectrum (if currently available spectrum were sold at internationally accepted market prices it would have collectively cost the industry $400 billion). With free bandwidth should come the obligation not only to build out a network thoroughly but a responsibility to allow capacity-based access to MVNOs in order to insure optimal network utilization.
But, if the spectrum-licensed carriers deicide to rest on their laurels and not carry out their responsibilities, the prospects of new market entry and new innovative services will be limited. This is why JCI has been advocating for the separation of network and service in order to allow new players to come into the market and create a wide range of services. This calls for an environment where infrastructure owners focus on maintaining a stable high quality network while specialized service providers compete to provide value-added services freely.
What JCI devised as a first step was to separate network, handset and distribution (consumer outlet). These three are traditionally separate functions served by different industries - handsets can be directly provided by manufacturers and for distribution there are various consumer electronics channels that exist. JCI, by securing its own network capacity, created an environment in which handset manufacturers and consumer outlets could play their part in entering the mobile market. The essence is to rent unused capacity from the carriers who were issued spectrum. This business models of ours is called Mobile Virtual Network Operator or MVNO. JCI invented this model and made it possible for companies other than spectrum-issued carriers to enter the market place.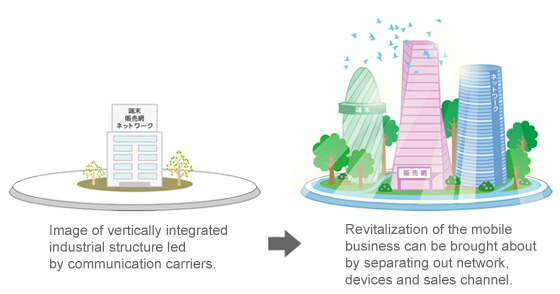 In 2001, JCI became the first MVNO operator in the world with the launched of data communication services using PHS. By borrowing the wireless facilities from DDI (current WILLCOM) and connecting it with ours, we were able to offer unique network services.
In 2009, we were able to establish 3G network connectivity with NTT docomo. This enabled us to provide original communication services as well as a different fee structure (open network).
14 years after JCI established itself as the world's first data communication MVNO with its own unique business model, it is reported that there are 210(*) MVNOs in Japan. With the entry of businesses from other industries, revolutionary new services and diversified price plans were made available.
* Source: Ministry of Internal Affairs and Communications "電気通信サービスの契約数及びシェアに関する四半期データの公表 (平成27年度第3四半期(12月末))別紙"
As a result of multiple service providers from diverse industries competing, customers are given a wide variety of options to choose from. This ultimately leads to the regeneration of the mobile industry which JCI is committed to.